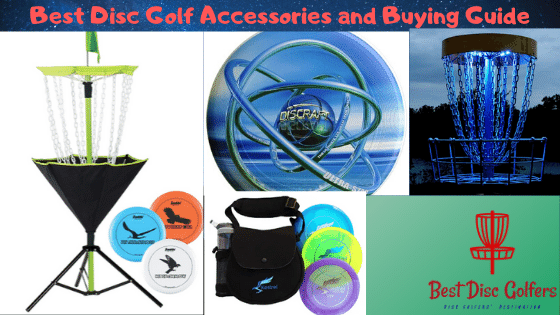 A passionate disc golf player will always want to stay well equipped and have every item made that will make playing the game more enjoyable and convenient. Some items are a must-have, things you simply cannot do without, like discs of course. How can you play disc golf without discs, right? But do you know that there are different kinds of the disc for the game? And not all the discs you get in the market are of the same quality or offer the same level of performance. So it is important to do a bit of research before purchasing these items and the best way to research is to go through the reviews of disc golf disc accessories and follow some buying guides.
Best Disc Golf Accessories You Need
Now, besides discs, there are things which may not be one hundred percent necessary but they will help you a great deal in making your time playing the game a better experience. In this post, we are going to cover some essential accessories for disc golf and also help you pick out the best ones by reviewing a few products from the market.
We have included items like different types of discs, disc bags, towels,
scorecards, etc. so let us dig right in!
Discs
Okay, so we are going to start off by talking about discs for play. For all the players out there who are still new to the game, this piece of information is provided for you so you can easily differentiate the types of discs involved and what they are used for in disc golf. There are 3 main types of discs: Driver, Midrange, and Putter, which we will explain in detail below. If you do not know where to begin your search or which disc you need to get for your game then fear not because we have also included some great products for you to check out.
Drivers (Distance and Fairway)
Drivers are used for the most speed and distance in a throw. You will get distance drivers that are designed to fly the longest and cover the most distance possible by a disc. These drivers usually travel straight and can cut through the wind with power and stability while some can also offer a good amount of glide for players who are still unable to throw with maximum power.
Fairway drivers can also almost fly as far as distance drivers but they give the players more control and accuracy in their throws. While distance drivers may seem a little too advanced for the newbie, a fairway driver is a lot more forgiving. If you want to use a driver in your game and need something to boost your confidence level, then fairway drivers are perfect for you.
This is one of the finest driver discs in the market. It holds the World Distance Record at 820' so that should not leave any doubt in your mind about its distance. The best thing about this driver is that comes in a range of different weights so even new players can enjoy some extra distance. With weights ranging from 145 grams to 175 grams, you can get exactly the right weight for your preferred style and level of playing.
We would suggest a weight of 150g to 160g for those who cannot throw hard yet. It is made of DX plastic which is not their best plastic but it is still a durable kind. It can be used to play on a hyzer where you can get 300-350 feet, the disc flies straight most of the time. Although it will serve beginners well, you will still need a bit of arm speed and the right technique to get this thing flying like a pro.
Pros:
Flies a great distance
Available in various weights
Relatively easy for beginners
Cons:
The plastic isn't Innova's finest quality
Mid-Range
Mid-Range
discs are all about accuracy and control. They are probably the most versatile discs as they can be used for drives, approaches, as well as for putting. Whenever you need a good amount of control, mid-range discs will come to the rescue. No matter what kind of shot you like to play, you can rely on these discs for accuracy.
The Champion Roc3 by Innova
The Champion Roc3 by Innova is a versatile mid-range disc that is very popular among both new players and the highly skilled. Customers have used this disc for all sorts of shots, including straight shots, driving, upshots, hyzer or anhyzers. Most professionals have praised their ability to hold on to its angle even through windy situations. The durable plastic used in the construction of the disc has a lot to do with its amazing performance and accuracy. If you are still learning to throw, you will love the consistency on this, while an advanced player will benefit greatly from its versatility. If you haven't got a mid-range disk yet then this will be great to start with or if you are thinking of picking out new discs to add to your collection then this will not disappoint you as it is something which will fly exactly in the manner you want it to.
Pros:
Versatile
Available in
many different weights
Highly
durable plastic
Keeps its
angle correct
Easy throw
Great for
players of all levels
Cons:
Need more on Midranges? Click here and explore complete midrange reviews.
Putter/Approach
You cannot or should not use a driver or a mid-range disc for putting if you want the most accurate results. For that we have putters. These discs are not as fast-flying as drivers so you can control the amount of distance and also get a better grip. Putters can be used for short drives and controlled upshots, depending on the quality and make of the disc. When you are near your target you will need a disc that is predictable and will not let you down with its performance, something which putters greatly offer. It is also the type of disc one would recommend a new player to learn with because it is so easy to control.
The SuperSoft Wizard is excellent for anyone looking to improve their throwing techniques and making the best throws while learning the game. But do not just brush this off as a beginner's putter. It offers a decent flight and actually be used for shots less than 300 feet. The fact that it can hold a
steady flight in the air for such a long time and over a good distance is really impressive. Because it is so easy to throw, players will immediately feel at ease and more comfortable with it in their hands. The SuperSoft is made from durable plastic that also provides a great grip so you can have all the control you need. The solid plastic may need a bit of breaking before it loosens but once it reaches its best condition it remains in a good state and retains the perfect form. Available in two sizes: 165g-169g and 173g -175g, the disc is great for windy weather conditions and will hold its original line with just a bit of fade at the end of its drop.
Pros:
Durable
plastic
Easy to
throw
Holds its
line for a very long time
Minimum fade
Appropriate
for all levels of play
Can cut
throw wind
Cons:
Disc may
initially seem too tight due to the thick plastic construction
Mini Marker Discs
So we know about the three main discs in disc golf; driver, midrange and a putter, but what is a mini disc? If you are new to the sport then you might think that it is just a disc that is a smaller size (or was it just me who thought so?).
Anyways, yes it is true that mini discs are small or 'mini' in size but they do not serve the same purpose of driver discs, midrange discs or putters. Mini discs are used as markers in disc golf. When you throw your main disc and it comes to a rest at a certain point on the ground, a mini marker disc is placed right there before the thrown disc is picked up. You do not use this disc in normal play, it is also placed in front of the resting disc, touching it slightly for accurate marking of the spot. This helps the player to know his/her point of throw as the game continuous. So if you are interested in disc golf tournaments you will need this disc to mark your lie. You can find plenty of mini marker discs on various sites and stores but we have reviewed one which we feel will be great to add to your collection of accessories.
It is the Innova Disc Golf Mini Marker Glow Disc. Innova is no doubt one of the best companies that manufacture disc golf accessories and equipment as they have been around for quite a while and have earned a great reputation among their customers. This mini disc is used in tournaments as a marker that is placed right in front of the thrown disc's resting spot. Some customers who bought this item have also mentioned using it for mini disc golf as a throwing disc as it flies well too.
It is really up to you to decide what you want to use this item for as it is sold as a marker as well as for mini-golf. You will love the fact that comes with a glow-in-the-dark effect so you can easily locate it in the dark, allowing you to enjoy a game whenever you like and also eliminating the risk of losing it if thrown far. It measures just less than 4 inches in diameter which is much smaller than a CD. The price may be a little on the higher end as you only get one disc per order but its quality and design make up for it. Colors may vary.
Pros:
Glow in the dark for visibility even in low light
Good flying speed for when used in mini golf
Serves as a marker
Good weight
Durable
Cons:
It might be a bit pricey if you are looking for something for budget-friendly.
If you are willing to have deeper ideas about disc golf discs, just click here and visit on best discs.
Disc Golf Bags
If you are serious about disc golf and see yourself playing the sport for a very long time then it will not be long before you find your collection of discs getting bigger. It is only natural that as you get better you will want to try out different kinds of discs and play around a bit more. Professional players know and understand the value of the various discs available for the game and most own more than a couple of these discs. It is not uncommon for highly skilled players to use up to 10 discs at a time even. So if you are going to be carrying all your discs then it will not make sense if you carry them by hand, will it? I know many players who carried their discs in regular backpacks but then decided to switch to proper disc bags because of their convenience and style.
All in Place
Disc golf bags are designed to help you keep your discs in great shape and also well organized. You can store them neatly in place, eliminating any chances of damage. Having them in one specific bag also keeps them safe so you do not lose them while out on the course. The bags can be bought in various designs and sizes so you can pick the right size depending on the number of discs you own or wish to own in the near future. Some even have extra storage space to carry extra items like a raincoat, water bottle, wallet, and other valuables. This allows you to have all your belongings in one compact storage case so you are more organized on the day of a big game. We have selected 3 disc golf bags to review so you can easily compare and pick the right one for yourself.
This bag measures at 11.5'' in height, 17'' in width and 8'' in depth. It can accommodate around 10 to 14 discs and a 1-liter water bottle. The water bottle pocket is nicely sewn on the side of the bag so that there is maximum space left inside the bag for all your other items.
A built-in key hook can be useful for when you need to store your keys safely while the large side pocket is spacious enough to hold items like wallets, towels, scorecards, and even your precious sunglasses. You can organize your discs according to most used by placing the frequently used ones in the elastic front pocket. The center of the bag comes with the largest storage area which can be used to place all your discs and a divider is provided so you can separate your discs as required. To ensure that you have quick access to your discs during a game, the top of the main center pocket that comes with magnetic closure can be folded back and left open.
Friend in Need
Whether you are planning to play on a rainy day or are traveling with your disc golf equipment through harsh weather conditions, the durable construction of the bag with keep all your items safe and out of harm's way. It is made of 600 Denier polyester and can take a good load of everyday wear and tear. It also features 4 plastic feet for the best protection. The straps are very strong and designed for the user's ultimate comfort while carrying maximum weight.
Pros:
Can carry up to 14 discs at a
time
Has enough space to hold other
essential items like towels, wallets, pens, scorecards, etc.
Comes with a water bottle slot on
the side of the bag
Made from high-grade polyester
Comfortable and strong straps
Lightweight
Cons:
Some customers stated that the
zippers were not of high grade
This bag is great for those who wish to carry a lesser amount of discs and items to the course. It can hold up to 8 discs at a time and has a side slot for a water bottle. It also comes with a front pocket to place your most used disc or putter. This allows quick access and less hassle during a game. The bag comes only in the color black but it is stylishly designed to match up to any style or personality.
Safeguard
A small zipper compartment on the inside keeps all your little valuables safe so you do not have to worry about misplacing anything while you are out to play. Customers are mostly happy with the quality of the bag as it is durable and very sturdy but the slot that holds the water bottle can only accommodate thinner bottles as it is very tight, which can be a problem if you are planning on spending the whole day on the course.
Another issue that customers had was with the lack of a compartment or space for a towel but as already mentioned, this bag is great for when you wish to carry only a few discs for maybe a quick game with friends. If you do not want to carry a large bag around and need something to help you stay organized during your sporadic round of games then this is perfect for you.
Pros:
Durable
Compact in size and great for
carrying lesser items
Can hold up to 8 discs
Front pocket for putter
Side pocket for water bottle
Cons:
The water bottle pocket is not
large enough to hold bigger bottles
No compartment to store a towel
or another medium to big sized items
If you are seeking a backpack style disc golf bag then check out the Trooper by Dynamics Discs. It is not a tournament bag but a casual bag that is light in weight and fairly small in size but can hold a good number of discs and other items required for the game. It comes with the main section for your discs, accommodating up to 18+ discs and a separate compartment that can fit around 4 putters.
On one side of the bag, you will find the water bottle pocket which comes with a drawstring to keep your bottle secured and in place, while the other side of the bag has two small pockets provided for you to keep all your valuable items such as your phone, wallet, keys, and scorecards organized. The padded straps and back panel ensures comfort for the user so you can carry all the weight easily throughout the day. Available in 3 dual colors: Black/Blue, Black/Red and Black/Green.
Pros:
Backpack style for comfort and
easy maneuvering
Can hold up to 18+ discs
Separate compartments keep all
your discs and items well organized
Has a sturdy base and lightweight
frame
Padded straps and back panel
Cons:
Does not come with a clip for
your towel
The bag seemed to tip over during
use for some customers
Bag Straps
Not all disc golf bags come with high-grade straps. Some straps may be good enough to carry the weight of the bag but they don't do much for the comfort level of the user. If you have spent a long day on the course and struggled to carry your heavy bag around then it is time you get a high-quality strap to attach to your bag so that you can carry your bag more easily on your back than drag it by hand.
It also helps you keep your hands free to take care of other business. They act like suspenders that take a lot of load off you and relieve the stress of having to pull all that weight around. These straps are available to suit different body shapes so you can most definitely find something to match your build. But make sure to find out if the strap is compatible with your disc golf bag if you do not want to end up with something that doesn't fit right.
This is an excellent strap that will save your back (as the name states) and help you turn your bag into a backpack in no time. If you carry heavy bags then you need a strong strap that you can attach to it to make it less of a burden and easier to carry around. The Innova Backsaver can be used with any disc golf bag that comes with a detachable strap. Simply connect the quick clip-on connectors to the bag's connectors and you are ready to go. The four connectors come with straps that are adjustable in length so you can get an accurate fit and more flexibility.
For maximum comfort, the straps have extra thick pads and a more rounded designed, all provided to help reduce back fatigue. You also get the option to have the chest straps on or off as you wish. If you are wondering about how much weight the straps can hold then you will find the answer on the bag itself because these straps can carry as much weight as the clips on your disc golf bag.
Pros:
Great to turn ordinary disc golf
bags in to easy to carry backpacks
Can be used as replacement straps
Reduces back pain
Durable and strong
Provides you with more comfort
and convenience than a single strap can
Adjustable length on straps
Cons:
Some customers had complained
that the straps had started to unravel as they were not sewn right at the ends
Towels
What can we say about the importance of towels in any sport? These items are a must-have whether you play soccer, cricket, basketball or disc golf. Sports that require you to move at a quick pace will make you sweat, whether you play it indoors or outdoors. Disc golf is traditionally played outside so you there is an even greater chance of you breaking a sweat as you play under the sun. If it is just a little drop of sweat on your forehead, you can easily wipe it off using a wristband if you normally wear one, but for times when you need to wipe your whole face and neck area, a tiny wristband will not come to any use. What you need then is a good soft towel to soak all the moisture and keep you dry and fresh for the match.
This towel offers a cling-free texture and a quick-dry effect with maximum absorption. It is available in 6 different colors: black, light blue, orange, pink, red and yellow with the brand's name carefully printed on it that gives it a very professional look. It measures 17'' X 16.5'' which is a standard size that will easily fit inside your disc golf bag without taking up much space. As we sweat, the surface of our skin becomes delicate and prone to damage so we must avoid rubbing it with anything harsh that may cause scratches or burns.
Fortunately, this towel is soft and easy on the skin and will not harm it in any way. It also has amazing absorption power so you can use it multiple times to wipe off any amount of sweat and dirt. Some customers have also used this item to wipe off water from their discs and were very much pleased with its ability to clean. It comes with a loop to attach to your bag so you can always have it with you during rounds.
Pros:
Great quality microsuede
High absorption rate
Will not tear easily
High grade look and feel
Available in multiple colors
Comes with an attached loop
Cons:
No reported complaints yet
Flat LED Disc Golf Lights
One of the most common complaints that we have received or read about in reviews for discs is regarding the color of the items and the lack of visibility in low light. If you have a few discs in your collection which do not really impress with their color and are hard to locate when they land far then you need to get LED lights that can be stuck on the discs to help illuminate them, especially during night play.
These lights come in various colors and have a switch in the center to activate them when the need arises. They will not cost you much, especially if you need the ones that come in packs. It is worth spending a few dollars on these lights than to lose your expensive discs. The addition of these lights may add a tiny bit of weight to the discs but they will not throw flight off. If you use these on a putter or mid-range disc then you will feel absolutely no difference in flight as putters and mid-range discs are quite forgiving in the first place.
The MVP LED lights to come in a pack of 10 and each flat light has three mini LED lights on them. You must tape them to the center of your disc and use them during night play so you can keep a track of your favorite discs no matter how far they land. Even if they fall between trees or in a hole somewhere, the illuminating lights will help you relocate them in no time. They come with power switches so you can save energy by turning them off when not in use. They do not come with any adhesives on them so we recommend using high-grade clear tapes to stick them on.
With three settings: fast blinking, slow blinking and constant on, you can run them in your preferred way. You cannot, unfortunately, change the color of the lights but they are all very bright and can run for days without dying down. The lights are great for the intended use but can also be used for other creative projects that require such lights.
Pros:
Very bright
Long-lasting
Each flat light has 3 mini LED lights on them so they appear to be brightly and can easily be spotted from far
Lightweight- will not weigh down your discs
Comes with power buttons to save energy
3 lighting style settings
Cons:
Does not include adhesives
LED Lights for Disc Golf Baskets
Do not let the time on your watch decide when you can play your favorite sport. Why let the darkness or bad lighting prevail when there is a perfect solution for it? Yes, we are talking about LED lights for your disc golf baskets. These lights are designed to make it possible for you to play even after the sun has gone down or late at night. Not only do these lights illuminate the basket so you can shot and score, they make everything look really beautiful and fun.
The lights are easy to install, they should come with all the instructions and you can even get them in different colors. If you have never had one installed or played the game with an LED-lit basket before then you will surely find the experience thrilling and very pleasing o the eye. They are meant to be placed on top of the basket so the lights can shine down on the cage and light it up. These bright cages can then be seen glowing from far across the field. The really good ones are waterproof, sometimes controlled by remotes and of course battery operated. To help you get started we have reviewed one of the popular LED basket lights making the rounds currently.
When you order this product you will get not one but two really bright and high grade LED lights for your disc golf basket. Measuring around 1 inch in height and 2.75 in width, they provide a perfect fit on the basket. The lights are also very durable and waterproof so you do not have to worry about them getting damaged in the rain. It really would not make sense if the lights were not waterproof because they are designed for the outdoors so chances are that they will get wet. There is a rubber gasket inside the threads which make them resistant to water and shine through no matter what kind of weather strikes. Operation is as easy as it can get, controlled by an IR remote, you can switch the lights on and off and also adjust their brightness.
There are other options of a color fade, as well as changing colors with a simple push of a button. The colors are vibrant and look cool, decorating the basket while serving its main purpose. Though the lights are just normal colored lights, they reflect on chains of the basket and give it an awesome lighting effect. To set up your lights you can have use the Velcro that's included or do it yourself as you prefer. Another great thing about these lights is that they come with batteries (yay). You need 3 AAA batteries once the included ones die, but they do last for a very long time depending on how much time you run them for.
Pros:
Comes with 2 super bright LED lights
Option to change color
Adjustable brightness
Placing them on top of the basket gives the whole cage a cool glow
Waterproof
Easy to install
Batteries and Velcro included
Cons:
A few customers mentioned that the lights worked great but only for a few days. (This could be due to a faulty model)
Score Cards
If you want to have a fair game then you need a good scorecard to keep track of all your rounds. I have seen some people who just prefer to download these sheets and have them printed out, while some even download the apps that are available on your smartphones but if you really want to keep it classy then you must stick to the traditional way of keeping score and that is by using a scorecard. The cards are great for use in any weather as they will not tear or get damaged as normal paper print outs would. They are very convenient than the smart apps because they will not require you to keep taking out your phone and inserting the information. If you choose to get a scorecard then it is best to
stick to re-usable ones so that the cards can be used over and over, erasing
the need of buying a new card for every game.
This is a re-usable scorecard that can record the scores of up to 6 players so it is great for when playing with a group of friends. The front side of the card is where you record the information while the backside has the Discraft Flight Chart. You must use a pencil to write so you can easily rub off the markings from your last game before writing new scores. There is a strap on it that can be used to attach the card to your bag so you do not lose it while you are on the move. It is affordable and an excellent item to make sure nobody cheats!
Pros:
Reusable
Comes with a strap to attach to a bag
You can use it to keep the score of at least 6 players
Cons:
Innova scorecards are just as popular as their other disc golf items. The reusable card comes with all the required markings and can be customized according to your needs. You can record everything from hole distances, names to scores and always be updated on the standings of the game. It is recommended to use a pencil so you can erase the card after a game or before the start of a fresh new game.
It is not a very big card so the writings cannot be too big but the card is a
great size to fit any bag or even your pocket as you always need to have it
nearby by to record the details of the game.
Pros:
Reusable
Compact in size
Records every detail of the game
Con:
None yet found to describe.
Things to Consider While Shopping for Accessories
If you really want to get the best deal on any item, before you place your order just take a few moments to consider some important factors.
Customer Reviews
Whenever I find something online I go straight to the review sections because that is exactly where I will find the accurate description and honest opinions on the item of my choice. These reviews are from people who have experienced the products first hand and talk about why you should or should not purchase them. Of course, some items may vary from user to user and what works for some could not work for you but still, it will give you a good idea on the general quality and performance of a certain product. So do take some time and read a few reviews before you make the final selection.
Best putters that scale up your expertise are reviewed here.
Price
Nobody wants to spend more than the actual value of a product and it is sad but true that many companies these days will just rip you off. You may think that an expensive item may be better than its much cheaper counterparts because very often we feel that a higher price means better quality but beware of false advertisements.
However, if an item is popular despite its high price then maybe the product is truly worth buying and it could benefit you more in the long run but do not just be ready to cash out on pricy items before finding out if it truly is worth the heavy price tag. On the other hand, we will also ask you to stay away from prices that seem too good to be true because if a company can afford to give away the products at such low prices then there has to be a catch. We cannot say much about the quality of such items. So it is really all about a balance and of course your budget.
Quality
Never compromise with the quality of anything you buy because when you spend money on something you expect it to last a decent amount of time, but waiting for low-quality products to disappoint you is just a matter of time (a very short time in some cases). Find out what the material is used in the production of the item and also how durable the material is. High-grade materials will result in higher quality products.
Design
The design is something very personal, it depends totally on your choice and taste, so go for something that will be pleasing to you yourself but will also attract the admiration of others. People intend to see the outer appearance of everything so it is only natural that you do the same but remember to check if the fancy designs are just a distraction to cover up its poor performance.
Brands
If quality assurance is something you live by then go ahead and purchase products with good brand names because brands have a reputation to hold. Every industry has a few big names that manufacture the best products in their field of expertise and these names are very popular among customers. It is the same in the sport of disc golf. Names like Innova, Discraft and Gateway (just to name a few) are some well-known brands that you can rely on.
Best Manufacturers of Disc Golf Accessories
As mentioned above, most people prefer to stick to brands when picking out their accessories of choice. If you are looking for some good names out there that have a good reputation among buyers then check out some of the following manufacturers:
Innova
This had to be the first name on our list because they are the inventors of the first true disc golf disc. From the 80s till now, Innova has created and manufactured all sorts of discs and accessories for every kind and style of the game. Their products are affordable and very reliable.
Discraft
Founded in 1978, Discraft has built a great reputation among discs golf players over the years. They use plastics like Pro D, Elite X, ESP, etc. all having different traits that are essential in the production of good quality discs. They also have a great line of quality accessories.
Gateway
Gateway putters are one of the most used putters in the industry. Players of all levels love the quality and performance of their discs as they use various kinds of plastics in the making. They have been around since 1994 and is a trustable brand.
Dynamic Discs
This is a fairly new company, having been first introduced to the public in 2012, but their products are quickly gaining popularity due to the high-grade plastic and other durable materials used.
MVP
This company was founded in 2010. MVP plastic has unique names that they go by for example they have the Electron, Proton, Neutron, Plasma, etc, all different types of high-grade plastic used for the production of their discs. MVP also manufactures accessories such as bags, lights, and disc golf baskets.
Frequently Asked Questions (FAQ)
Question: What equipments do you need for disc golf?
Answer: You need 3 discs(driver, mid-range and putter), bag, marker, scorecard, light, towel, etc.
Question: What equipments you must have as a minimalist for disc golf?
Answer: You must have at least discs to play this game.
Question: What is the best disc golf brand?
Answer: Based on the type it varies but you may trust Innova, Discraft, Discmania, Infinite, etc.
Question: Are equipments for disc golf too costly?
Answer: It depends on the brands and models you choose. You may select both cheap or pricy accessories considering the quality you seek and the time you spend on research.
Wrap Up
If you want to really enjoy your time playing disc golf then having some of these accessories around will make the experience much better. You may not need all of them to start with but pick one or two essential ones to help you feel more organized and well equipped.
How disc golf discs are made and with what? Interested in knowing? Click here.