Disc golf grip enhancer filled with magnesium carbonate grip chalk or wooden powder. It can absorb unwanted moisture from hand and golf disc to maintain natural dry grip and clean release. Best disc golf grip enhancers are of great use.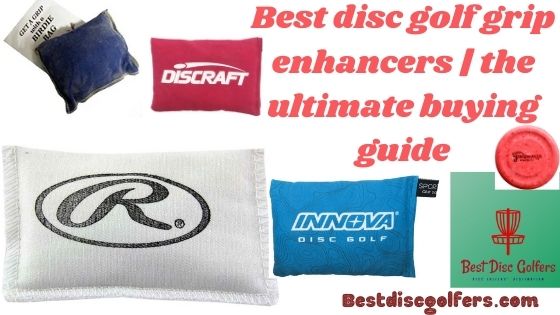 Moreover, you can clip with your bag pack; whenever you feel sweaty hands or equipment, grab in your hands and rub 2 to 3 times to remove unwanted moisture and oils. It does not leave a sticky residue like chalk and rosin.
A Disc golf enhancer is a complimentary gadget that helps to dry hands and equipment in humid, hot, and sweaty conditions to play exactly what the player wants without any slip grip.
Disc golf grip enhancers use dry hands and equipment instantly because there is no time to clean hands from oil and sweat in the game. Instead of using dirty rags or any other material that can react to your skin or allergies, use a unique grip enhancer made from natural wooden powder or materials that are not allergic or harmful. The grip enhancer will come in a closed pouch or in a bag that can not make any mess in your other accessories. As there are many different sports like golf, basketball, baseball, rock climber, and tennis, players used this type of grip enhancer never to lose their grip. Similarly, some serious disc golf players want the kind of product that helps them never lose their grip on a plastic disc.
Disc golf chalk bag:
You may have experience with disc golf enhancer bags filled with sawdust, beads, or soil. Here disc golf chalk bags are pretty the same as these, but they are not with ordinary filler. There is magnesium carbonate as filler for chalk bags, which provide instant enhancement of grip to your hands.
Product review:
The Infinite discs chalk ball along with others is the perfect grip enhancer for professional players of golf. This chalk back is specially featured with magnesium carbonate grip chalk. You will get an infinite disc chalk bag in a pouch, so you can easily carry your chalk bag around.
Moreover, this pouch will keep chalk away from your bag and other accessories. In addition to this, with the help of pull strings on this chalk bag, you can tightly close this pouch and hold it with your backpack by using a carabiner. So when you feel there is a need for grip enhancers, remove your chalk bag from the pouch and use it without hassle.
Features:
Small pouch to give protection other accessories from chalk
Magnesium carbonate used as filler
For superior hold up, there is a carabiner
Provide instant and easy-grip during game
Pros:
The perfect option in moisture and humid climates
Easy to carry on
Affordable price
Lightweight
Cons:
We don't find any con with the product; overall, it is the best disc golf grip enhancer.
As we know, grip and touch have a crucial role in throwing the disc in a disc golf game. There is a need for any best disc golf grip enhancers for enhancement of grip in your game. These grip enhancers bags are usually full o a blend of kiln-dried hardwood powder. These disc golf birdie bags give proper dryness to hands without leaving any sticky residue. It would be best if you patted these birdie bags to your hands for a natural feeling of dry grip.
Birdie bag manufacturers are presenting this best disc golf grip enhancers in the form of birdie bag. The bag features with wood particles that can expand and absorb moisture and oils from hand. This birdies bag is like a staple in disc golf for providing a non-slip grip. The bag has a large size so you can easily rub both your hands at the same time. Disc golf birdie bags are a great option if you want no feel of wetting hands during your game.
Features:
Natural kiln dried wood 100% powder
There is no talc or resin in this birdie bag.
A USA based company manufactures the product.
This bag is specially approved by disc golf from PDGA.
Customer reviews: 4.6*
There are two available sizes in this birdie bag; large and small.
Product dimension: small 3 L, 5 W, large 4.5 L, 5.5 W (inch)
Pros:
Approved from PDGA
Available in two different sizes
No chemical
Dries fastly
Cons:
Rosin is also known as the Greek pitch. It is extracted from pines and is a solid form of resin. Rosin usually contains different resin acids and Abietic acid. Rosin materiel is in use in disc golf grip enhancers due to its friction enhanced capacity. Disc golf players use disc golf rosin bags for getting grip better.
RAWLINGS brand based in the USA is the manufacturer of this bag. This disc golf rosin bag comes at an affordable price and makes sure to dry grip to players in the game. The bag has a rosin mixture in cloth and shape in the form of a bag. This bag is usable in multiple sports as a grip enhancer. For instance, in baseball, racquet sport, bowling, and work as the best disc golf grip enhancer. Furthermore, the bag comes in an enclosable poly bag. The bag will give protection to your other accessories for not messing with this rosin bag.
Features:
This bag works as a tremendous durable aid in the training of the game.
Rosin bag gives grip enhancement to all caliber players due to its multiple features.
It is primarily for players who seek for dry grip in the game.
Featured with rosin mixture in a cloth bag.
Comes with a reclosable polybag
Product dimension: 3.8 L, 2.3 W, 0.5 H, (inches)
Manufactured in the USA
Customer reviews:4.2*
Product weight: 0.1 pounds
Pros:
Very affordable price
Comes with pouch
Lightweight
Great thickness
Warmth feel
Cons:
The bag is little tiny
Contain some chemicals
Disc Golf Dirt Bag:
Disc golf dirtbag filled with various rocks that combine and make dust. This dust used comes in a bag, and the overall dirtbag is used to give grip enhancement. The players of disc golf can dry out their hands and disc golf with these dirtbags. Dirtbags feature highly absorbable materials, and they are also super easy to carry. They remain dry for a longer time and quickly dry out if they get wet. Disc golf dirtbags are a perfect choice for those who have any skin allergy or sensitivity. So if you are looking for a grip enhancer with natural filler without any chemical, you should grab a disc golf dirtbag. Find the cheapest bags here.
This dynamic disc dirtbag is considered the best disc golf grip enhancer among disc golf players. The bag is available in various colors so that you can pick any color with your own choice. The bag features with dirt, and when you rub your hand with this dirtbag, there is a formation of dynamic dust that will give you a feel of rosin.
They come in size, which is perfect for rubbing your hand and easy carrying in your backpack. This disc golf dirtbag is absorbent and dry out quickly.
Features:
The bag is approximately 4.5L, 3 W, (inch).
Compact size
This bag retains its drying ability for a longer duration.
Dry out quickly, so you can use it again and again.
Featured with different rocks that make dirt together.
Customer reviews: 4.6
Pros:
A perfect solution for improving grip
Compact size
Feel of rosin
No chemicals
Cons:
Buyer Guide to pick the Best Disc golf grip enhancers :
Here, we will discuss different things you need to consider before purchasing disc golf grip enhancers.
Grip:
The first and foremost issue you need to consider in disc golf grip enhancers is the grip. Remember, you are buying a grip enhancer for getting a hold in your game. So the bag you are going to buy should have the ability to give your hands a perfect grip without sticky residue. The reason is with sticky hands; you can lose your points in your game. 
So it is vital to check out the grip of the grip enhancer. The grip of the enhancer is usually dependent on the material used for filling the bag. Some suitable materials for perfect grip are kiln hardwood powder, dirt, and resin. You can pick any bag featured with these materials and can get an excellent grip in your disc golf game:
Size:
The other aspect you need to think about is the size of your grip enhancer bag. Some bags are so tiny in size that you can feel a problem in drying out of your hands thoroughly. So it is recommended to pick an enhancer between 4-5 length and 3-4 width.
Absorbent;
Always pick a grip enhancer bag that has excellent absorbent properties. The problem with less porous materials is that you can use them repeatedly, and they will also not give a good grip. A grip enhancer that dries out quickly allows the user to use it again and again. So absorbent is also an important feature to watch out for before buying any best disc golf grip enhancer.
No chemical:
Always pick grip enhancers free from chemicals because you will use these grip enhancers directly on your hands. So to avoid any skin issue, or allergy pick a bag that featured natural filler.
Extra pouch:
Having a pouch with a grip enhancer is a crucial tool. A grip enhancer without a pouch or polybag can mess with other things in your bags. So try to grab a grip enhancer with an extra pouch.
Price:
There is no need to buy a grip enhancer for more than a reasonable price. You can get any best disc golf grip enhancers in the 5-10$ price range. So we recommend you to buy your grip enhancer in this price range.
Conclusion:
You can get grip enhancers with chemical fillers or with natural fillers. We give multiple choices of natural fillers grip enhancers here. So in case of any skin sensitivity, you can choose a safe product for your game. Other than this, while keeping additional information in mind, you can get any best disc golf grip enhancers.