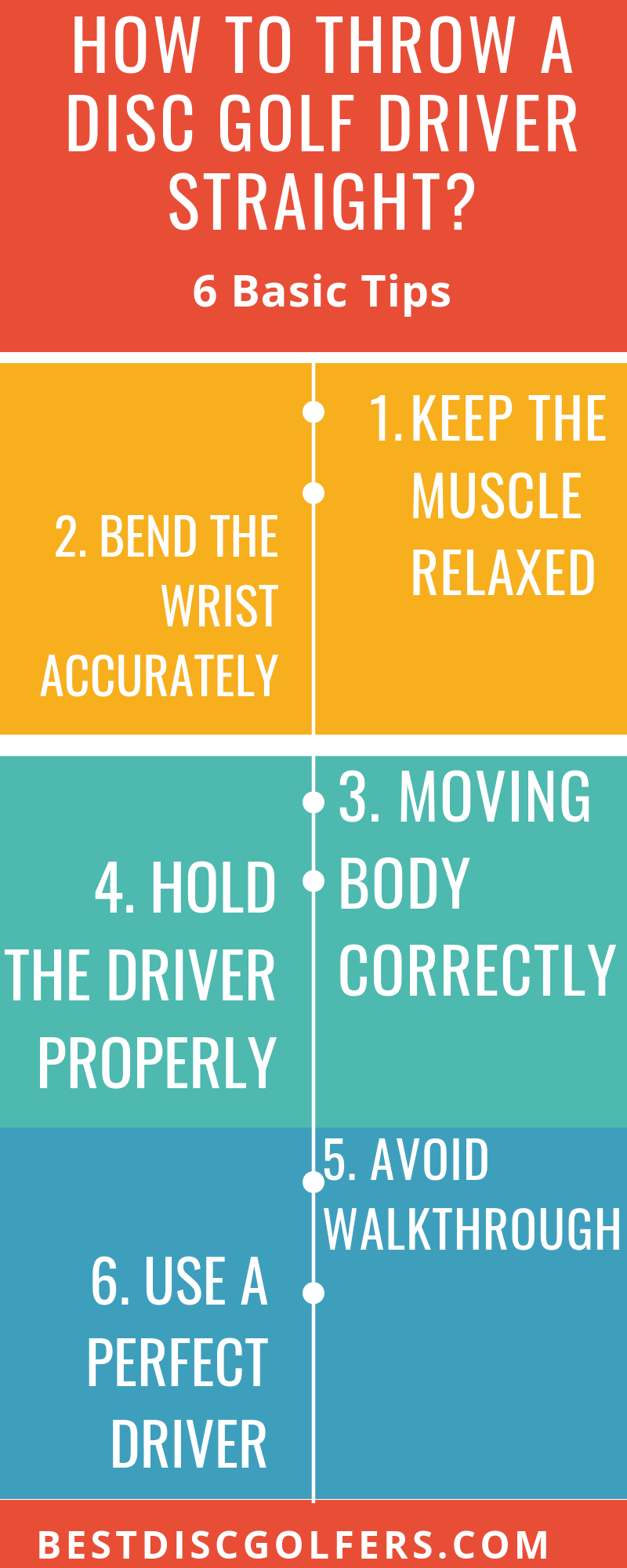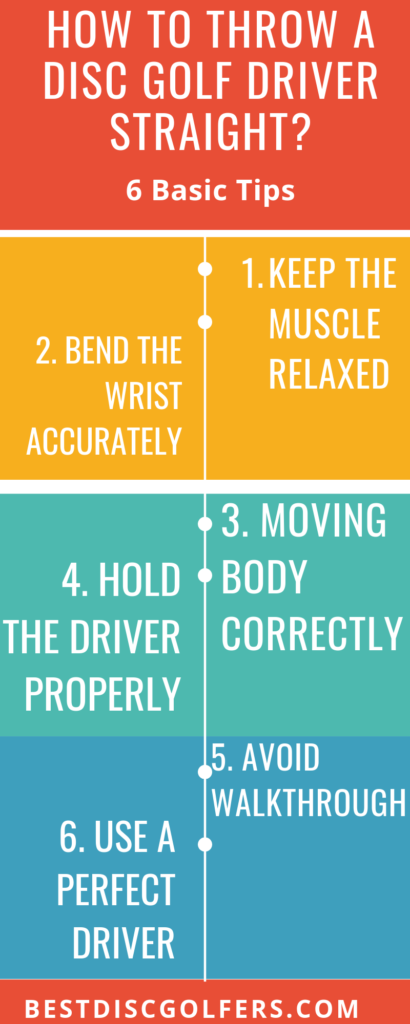 To play disc golf like a pro, you'll need to have a solid idea on how to throw a disc golf driver straight. However, it is not as easy as it sounds. There is hardly any resource on the internet that has covered this topic in detail. That's why in this article, I'll share with you some tips that have helped me significantly to throw a disc golf driver straight. I hope these tips will help you out too.
So, let's get started!
6 Tips on how to throw the Disc Golf Driver Straight
If you are playing disc golf for quite some time now, you may have noticed that it is quite challenging to throw a disc golf driver straight. That's why here I have shared some tips that will help you to overcome this difficulty.
Go through these tips carefully and practice them every day. Eventually, you'll become a master at throwing a disc golf driver straight.
1. Keep the Muscle Relaxed
It is usual that the players who tend to throw the driver farther, tense their muscles up without realizing that tensed muscle cannot move faster and smoother. Eventually, they end up throwing the driver in a curved way. Also, the driver fails to cross the right amount of distance.
As a good disc golf player, you shouldn't forget that your goal is to throw the driver straight, not hard. Therefore, you must avoid tensing all of your muscles and get a posture like you are about to hit a punching bag. Keep the muscles relaxed until the driver reaches close to the chest. When the driver reaches your chest, throw it with as much comfort as possible. Keep practicing this consistently for improving the throw.
Read this article to add some extra meters to your throws.
2. Bend the Wrist Accurately
Disc golf players are often unsuccessful in throwing the driver straight just because of bending the wrist more than a 90-degree angle. A 90-degree perspective is suitable for maintaining straightness. Do you know why? Well, the reason is that when you are ready to throw the driver, you stand in a straight posture along to the disc basket. It means that your position and the position of the basket create a 90-degree angle. So, if in such a situation, you want to reach the basket to touch it, you will run or walk straight, won't you? You will surely not take a walk either to the right or the left, preferably straight.
Likewise, when you want to keep your throw straight, you must keep your wrist holding the driver, parallel to the basket. For this reason, creating a 90-degree angle is a must. If the angle fluctuates from a solid 90-degree, then you can be sure that the throw will divert from a straight path too.
Learn about Common Disc Golf Injuries with Preventive Measures and Remedies here.
3. Moving Your Body Correctly
While playing disc golf, the players acquire some energy to throw the driver by moving the entire body like a roller. Most of the players make a mistake in this part. While running their body, they often go farther away from the place where they should have stood for throwing the driver. For this reason, their disc golf driver often deviates from a straight path while reaching the basket.
So, next time you go for practice, beware of this common rookie mistake.
Find tips and tricks on driving and putting.
4. Hold the Driver Properly
The disc golf players often report that their driver slipped off their hand even after holding it tightly. Though they indeed held the driver tightly, yet their mistake was- not carrying it with the accurate positioning of the fingers. Yes, you heard it right!
Best disc golf putters are reviewed with buying guide here.
Only a tight holding cannot offer you a straight throw unless it combines with the right placing of the fingers. To accomplish this combo, you'll need to place your fingers under the driver where the edge locates. Keep the fingers touched along with the side and your palm over the roof of the driver. Now, this 'holding' can assure you that the driver will neither slip off your hand nor be misplaced. Eventually, your throwing will be straight.
5. Avoid Walkthrough
There are many disc golf players who believe that a longer walkthrough can give them enough strength to throw the driver straight towards the basket. But they hardly know that a long walkthrough requires more energy which in turn makes them tired even before they throw the driver. This pre-mature tiredness hinders them to make a perfect throw. It is even seen that the driver cannot reach half of the way towards the basket because of this. Such scenes sometimes even can create a funny environment shoving the players into depression.
Therefore, it is recommended to avoid long walkthrough.To acquire some extra energy, you can move your body like a roller. There is absolutely no necessity for a long walkthrough.
6. Use a Perfect Driver
Choosing the perfect driver is very important for getting a straight throw. There are different types of drivers in the market. Each type comes with its own set of characteristics. The player needs to choose one that suits his playing style. Most beginner players fail to select their driver correctly. They choose one that is either over-speedy or too slow, over-heavy, or too light.
As a beginner player, you should keep in mind that the heaviness, speed, stability, etc. should be chosen according to your personal preference. Stop picking what the other player or your friend bought. Instead, it would help if you decided the driver that suits your fitness level and with which you feel comfortable.
Last Words
I hope after reading this article, you have a crystal clear idea of how to throw a disc golf driver straight. By following all the tips mentioned above, it is easy a satisfactory result from them. I hope you'll too. However, remember this is not all; you may have achieved by resorting to other techniques also. If you are still confused in any step, do not hesitate to ask in the comment box below. I'll get to you as soon as I can.
Know the best disc golf accessories, grow your skill like a pro.